Salesforce Exec Shares 4 Steps To A Successful ABM Strategy During ABM Revealed
Rolling out an ABM campaign is no small task, but research from Demand Gen Report shows that potential payoffs are big. More than half of B2B organizations (56%) say ABM has improved marketing and sales alignment, 46% say it has resulted in a more efficient use of marketing resources and 33% say it has streamlined the customer acquisition path.
During ABM Revealed, an online "master class" hosted by the ABM Leadership Alliance, marketing practitioners and experts shared their secrets for ABM success, including how to align sales and marketing, increase account engagement across channels and measure the impact of your campaigns. In one session titled, "Up Close with Salesforce: Four Steps to a Successful ABM Strategy," Kevin Baldacci, Senior Product Marketing Manager of Salesforce, offered an in-depth look at a Salesforce ABM campaign that targeted discrete manufacturers and drove more than $4 million in pipeline. According to Baldacci, the campaign's success was driven by four key steps:
1) Identifying The Right Accounts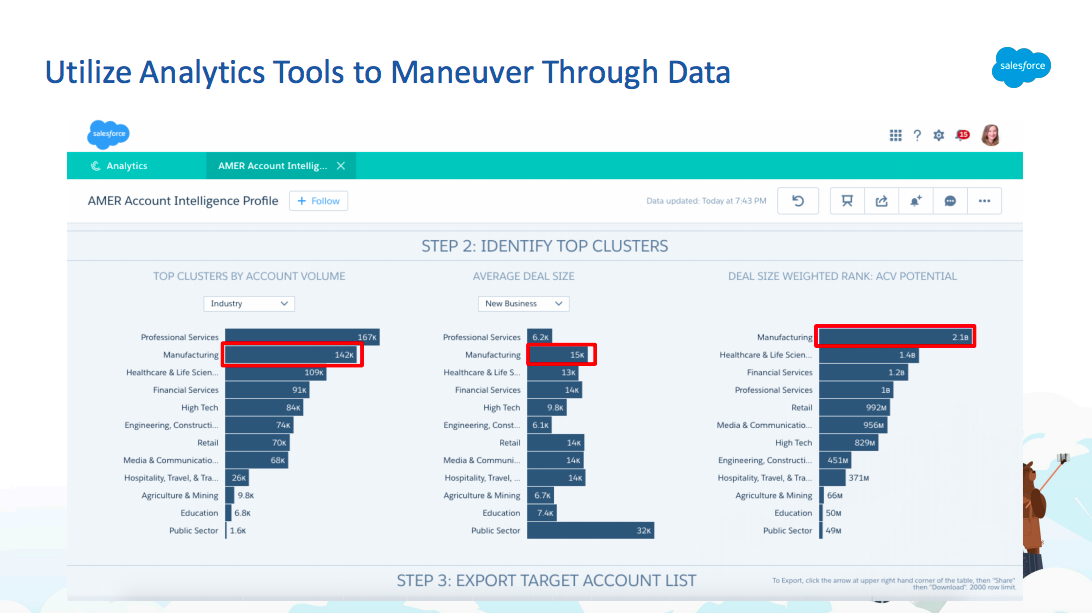 Without the right data in place, your marketing dollars may be wasted on chasing down the wrong target accounts and sending personalized messages to outdated contacts. Before diving into this ABM campaign, Salesforce started by going through its existing data.
"A majority of our time in the very beginning was actually spent on cleaning and enriching our account data," said Baldacci. "We ran an assessment with our existing data and a found a ton of duplicates. So, we merged them or deleted them, and got it very clean in terms of the account lists that we are going after."
The company also used Einstein Analytics to evaluate the data and ensure it was going after the right accounts. By doing this, Salesforce was able to confirm that manufacturing was the second largest industry in terms of account volume and average deal size. From there, the company built out its ICP and enhanced account profiles with trusted data to set the stage for success.
2) Improving Customer Engagement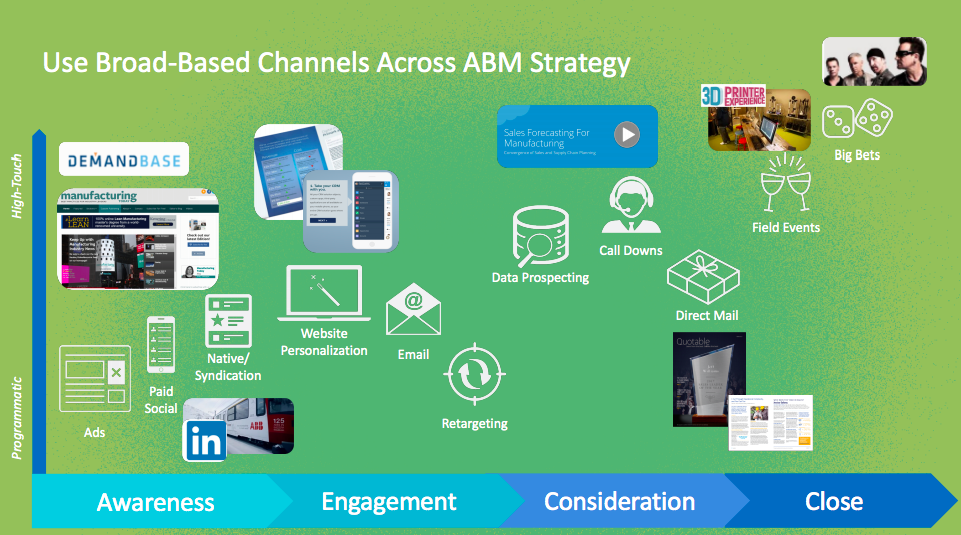 Once you've Marie Kondo'd your marketing data and identified your target audience, it's time to focus on engagement. The key here is to make sure you're leveraging a variety of channels throughout the buyer's journey to break through to those top-tier accounts.
"A lot of times, we'll talk to companies and they'll think ABM is really just that first touch and 'how do I send out a personalized, targeted ad or personalized direct mail and get someone to call us back?'" said Baldacci. "We don't look at it like that. We look at it as a journey."
According to Baldacci, this journey includes four key stages: awareness, engagement, consideration and close. To hit each stage, Salesforce used a skilled mixture of targeted ads that addressed buyer pain points, direct mailers designed to engage prospects, webinars that showcased Salesforce products up close and personal and field events where reps could meet directly with prospective customers.
3) Aligning Marketing & Sales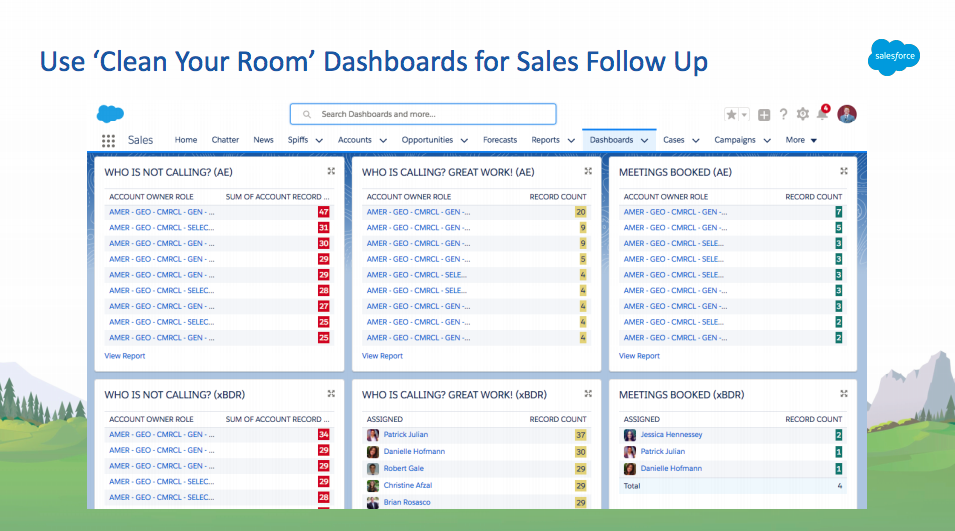 Despite its name, ABM isn't just about marketing. It takes a dedicated team effort from both marketing and sales to move accounts through the funnel.
"More than half of the buyer's journey is sales driven," said Baldacci. "So, we want to make sure that marketing is doing everything they can to supply sales with all the right content and enablement to make sure we're seeing the fruits of our labor from that ABM journey."
Salesforce therefore created a checklist to certify that marketing and sales were aligned around target accounts, messaging, lead management and more. The company also generated "Clean Your Room" dashboards to keep the sales team accountable and make sure that leads weren't getting lost during handoff.
4) Measuring & Optimizing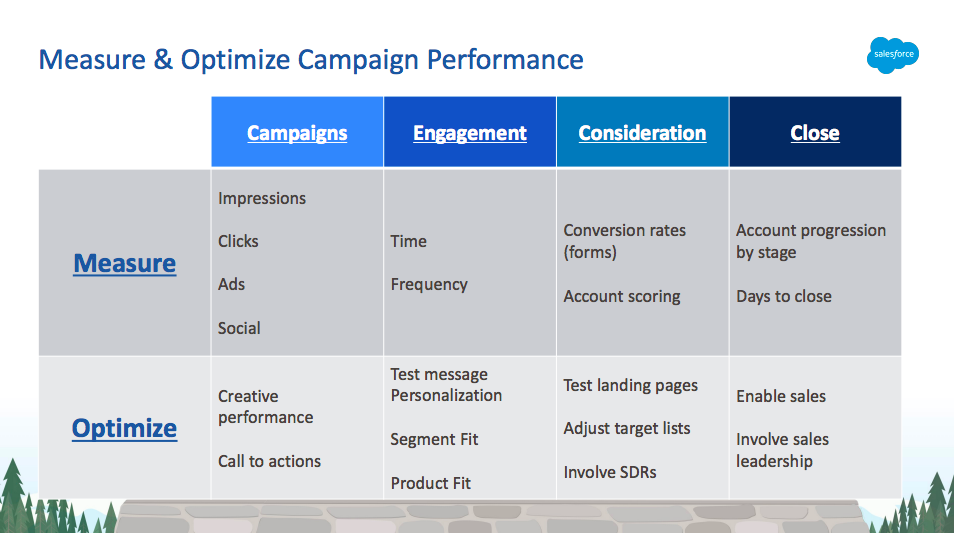 Metrics are perhaps just as important as clean contact and account data. Without the proper metrics in place, you won't be able to get a holistic view of how your ABM programs are performing or identify gaps in the funnel for optimization. Baldacci said this is a critical process that shouldn't be rushed.
"This wasn't something we conceived and put into market with a month or two. This was really a 6-month to 12-month campaign," said Baldacci. "Part of the benefit of doing these longer ABM campaigns is that you can always be optimizing. You don't have to stick with what you have."
Baldacci's team looked at a variety of metrics throughout the funnel, including campaign impressions, frequency of engagement, conversion rates and days to close. These metrics provided valuable insight and helped the team confirm segment fit, adjust target lists, enable sales and more. In the end, Salesforce was able to close 100 new accounts and drive more than $4 million in pipeline. By following the steps above, you may see similar success.