The Power Of 'Wartime Technology' In Today's Current Climate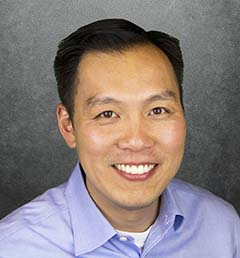 2020 has proven to be a difficult year for B2B markers, requiring them to pivot strategies and reallocate budgets amid our new reality. Technology is now playing an even greater role as marketers work to achieve revenue success.
Demand Gen Report sat down with LeanData's CEO Evan Liang to gain a perspective on how marketers can use "wartime technologies" to adapt quickly to the rapidly changing landscape.
Demand Gen Report: How would you define "wartime technology?"
Evan Liang: In his bestselling book The Hard Thing About Hard Things, Ben Horowitz, one of Silicon Valley's most respected venture capitalists and entrepreneurs, made the distinction between the characteristics needed to be a successful "peacetime" versus "wartime" CEO — and in many cases, they are polar opposites.
Through much of the last decade, we've enjoyed a long stretch of economic growth and prosperity that has fueled innovation and opened up new market opportunities. This all changed, of course, as the COVID-19 pandemic transitioned businesses across all sectors from peacetime to wartime with dizzying speed.
As businesses pivot to meet new market realities, marketers are realigning their go-to-market strategies and programs — and their tech stacks are a big part of that. As we move into wartime mode, what are your "must-haves" versus the "nice to haves?" What already exists in your tech stack that you can leverage for additional value? Do you need to fill in any critical gaps?
We've already seen this trend taking shape with our customers — a clear set of go-to-market tech essentials is emerging. And we believe this "focus-on-what-matters" approach will only accelerate in the months to come.
DGR: What are the wartime technologies for marketers?
Liang: According to TOPO Research, one of the top analyst firms actively working with B2B clients to navigate changing market realities, the new wartime martech essentials have four key attributes:
Mission-critical only
High impact (ROI)
Quickly adopted
Versatile
We were really pleased that TOPO recently named LeanData the leading vendor for one of the highest-impact technologies in the sales and marketing tech stack: Lead-to-Account Matching and Routing. Their analysts have also since labeled this emerging tech category as one of the new wartime essentials for marketing and sales.
The mission-critical nature of our go-to-market solutions play out every day with our customers. And the recent crisis has brought their value into even sharper relief by enabling these companies to pivot go-to-market in days or even hours instead of quarters, as business conditions change. This level of agility has quickly become critical for business continuity and execution in these uncertain times.
DGR: What do marketers need to do to adjust during the present COVID-19 crisis?
Liang: The impact of this crisis on B2B marketers, and how they must operate moving forward as revenue leaders, has been profound. Major market segments are changing at breakneck speed, requiring marketers to immediately refine and often rewrite go-to-market game plans. Early evidence shows this is well underway. Recent TOPO research revealed that 92% of high-growth B2B companies have already revised core messaging. And 73% of marketing leaders have made adjustments to their target markets.
TOPO's research also revealed 70% of B2B companies expect a 20% (or higher) decline in Q2 pipeline. Peacetime pipeline had been abundant, but now every lead is precious. "No lead left behind" has always been our motto. While this has always been important, it's even more vital in this economy that every lead is managed with maximum speed and efficiency.
DGR: What is Lead-to-Account Matching & Routing? And why is considered a "wartime" technology?
Liang: Leads are the lifeblood of any organization. And companies invest a lot of time and money to generate them. Yet, if they aren't managed effectively, their ability to power the revenue engine quickly diminishes.
Based on our experience in recent years, we've estimated companies commonly lose around 10% of their leads — they simply fall between the cracks. When companies were growing really fast, that wasn't too bad. But now in wartime? They need that 10% — and those black holes are not okay.
With greater competition and fewer leads, the faster companies can act on a lead by routing it to the right rep for follow-up, the better chance they have of winning that deal. We can't throw more people at these challenges any longer but must automate this process for accuracy and speed.
"Even in wartime," said TOPO Chief Analyst Craig Rosenberg, "We expect this market category will grow 2X at a minimum in 2020. The use cases are very compelling and will soon become more widely known."
DGR: Can you give a real-world example of automated Lead-to-Account Matching & Routing being mission-critical to a brand during this crisis?
Liang: It's been a busy time for our team, as we've been supporting our customers through this crisis. And we've seen interesting dynamics across our customer base — all of which point back to the mission-critical nature of our solutions … especially now.
With nearly three-quarters of B2B companies expecting a substantial decline in Q2 pipeline, it's not surprising many of our customers have already seen lead volumes decrease. And thus, their ability to manage every lead like its gold has become that much more important.
But LeanData also supports companies whose technologies enable remote working and they have been flooded with new leads. A few of these customers had lead volumes jump 3X to 5X nearly overnight — with one even seeing daily leads topping six figures! LeanData proved mission-critical to their business continuity and execution — ensuring they could effectively manage this unprecedented volume of leads (and potential new business) while supporting the global workforce in its transition to remote working.
On the flip side, we see a lot of customers downsizing and needing to adjust quickly to ensure leads aren't routed to recently departed reps and then left untouched. If territories are not adjusted and routing rules updated to adhere to the new organization's structure, 10% of leads falling into a black hole can easily become 20%. In good times, companies could spend several months updating these processes, but in the era of COVID-19, companies need technology that allows them to do this overnight.