New Research Highlights Rapid Adoption Of Revenue Operations Models In B2B
Featured
Revenue Operations (RevOps) has quickly become a growing role and discipline sitting at the crosshairs between sales and marketing teams within B2B businesses. The RevOps model, which has changed the way B2B companies align themselves internally to drive growth, is being adopted rapidly, according to new research from LeanData and Sales Hacker.
The State of Revenue Operations 2019 study, which surveyed nearly 2,500 sales and marketing professionals, revealed 55% growth in RevOps adoption over the past year. Companies that reported a dedicated RevOps group rose from 20% to 31% between 2018 and 2019.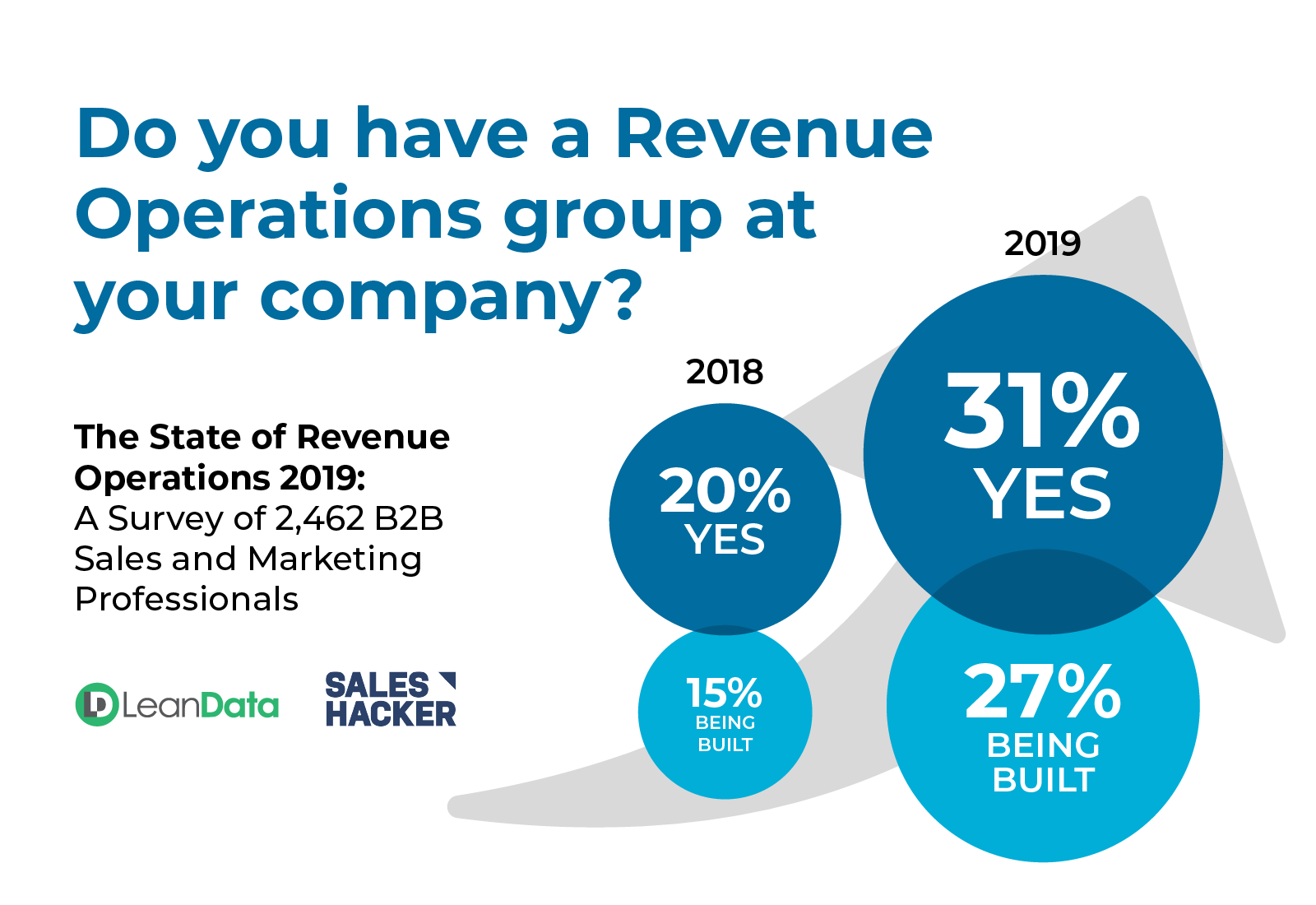 In addition, companies who are in the process of building a RevOps function grew from 15% in 2018 to 27% in 2019 — an 80% increase YoY. Thirty percent also said they believe RevOps was a future possibility for their organizations, while only 4% said RevOps was not in their future, according to the report.
"We believe Revenue Operations is a natural evolution for operations as these functions coalesce into a strategic group with a singular focus on driving revenue, said Evan Liang, CEO of LeanData. "It's about breaking down the barriers between sales and marketing and aligning operations more holistically across the revenue chain to power growth. Our new study spotlights this shift to RevOps is well underway with the vast majority of B2B organizations."
Alignment Critical To RevOps Success, But Siloed Data Is Hindering The Process
Liang explained that RevOps brings operations teams supporting sales, marketing and customer success together under one umbrella. The research report further defines RevOps as the integration and alignment of operational functions that power the revenue engine into one strategic team that's focused on maximizing an organization's growth and performance holistically across the entire revenue chain.
"We see RevOps as a natural evolution for Ops personnel and assets to coalesce into a strategic group with a singular focus on driving revenue," Liang wrote
in a blog post
. "It's about breaking down the barriers between sales and marketing and aligning Ops functions across the revenue chain to most efficiently power growth."
The survey found that 84% of respondents agree that sales, marketing and customer success share ownership for revenue growth, but 37% admitted that these functions aren't as aligned as they should be to maximize revenue-growth potential.
Respondents were also asked to rank their alignment levels around data, go-to-market planning, infrastructure, go-to-market strategy, measurement and lead management on a one to 10 scale (one being least aligned). The study showed that data was the least-aligned aspect of the revenue engine with a score of 5.7 out of 10. The others ranked as follows:
Lead management: 6.11
Measurement: 6.07
Go-to-market strategy: 6.06
Infrastructure: 6
Go-to-market planning: 5.75
B2B Orgs Agree Customer Experience Is A Critical Revenue Driver
Delivering a seamless customer experience has been top-of-mind for today's B2B organizations, and the findings in this report revealed that the expansion of RevOps models are another step towards building more holistic journeys for customers. Almost all of the respondents (95%) said "the ability to deliver a consistent and seamless customer experience across the entire customer lifecycle is a key competitive differentiator and critical revenue driver for B2B companies."
The findings reveal that B2B organizations are centering their strategies around the customer experience beyond the closed sale. Having that go-to-market alignment through a RevOps model positions organizations to better manage, monitor and optimize the experience pre- and post-sale.
An Inside Look At The Rise Of RevOps: Exclusive Q&A With LeanData's Evan Liang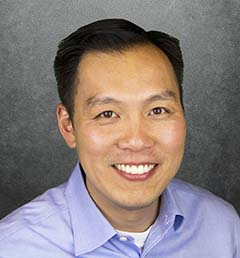 For a deeper dive into the survey results and deeper analysis of how RevOps models are impacting high growth businesses, Demand Gen Report conducted a 1:1 interview with Evan Liang, CEO of LeanData. In this Q&A, Liang discusses the importance of RevOps in B2B today, as well as his thoughts on the future of operations.
Demand Gen Report: Did anything surprise you from the survey results?
Evan Liang: While we see firsthand the momentum RevOps is gaining amongst our own customers every day, we hadn't known to what extent — or at what speed — this shift was taking place in the broader B2B community. And while it's not a surprise necessarily, it was pretty astounding to see the 55% growth in RevOps adoption just within the past year.
Industry analysts like SiriusDecisions and TOPO have been counseling clients that shifting to a RevOps structure is "absolutely critical to success" in B2B. And we have seen the business results RevOps pioneers like Carbon Black and Okta are experiencing from embracing this model. But seeing this hard evidence of the velocity in RevOps adoption is really proof that this isn't just a passing fad or the latest buzzword. I believe, as analysts do, that we are witnessing a fundamentally new operating model for the B2B revenue engine emerge — one that is changing how modern B2B companies align themselves internally to drive growth.
DGR: Why is RevOps such a paradigm shift for the role of operations in today's B2B go-to-market model?
Liang: Operations functions within sales, marketing and customer success have become so pervasive in B2B that sometimes we forget how new they are. Yet modern operations are relatively novel – and rapidly evolving. Working with operations leaders since 2012, LeanData has had a front-row seat to this evolution. And right now, we're witnessing the next major evolutionary advance of this function with Revenue Operations.
As we all know, B2B companies implementing operations have typically done so within organizational silos — hence, Ops in Sales, Ops in Marketing and Ops in Customer Success. In recent years, however, we started noticing that our most successful customers had operations teams that worked closely together across organizational boundaries and with a more holistic view of the revenue engine.
In nearly all organizations, these dedicated operational functions still exist — and won't be going away. However, the teams they belong to no longer solely identify themselves as sales or marketing. And instead, they have begun to adopt a more unified and inclusive team identity: RevOps.
The RevOps model most definitely represents a paradigm shift and a departure from how operations are currently aligned in most companies today. However, we also view RevOps as a natural evolution for operations personnel and assets as they coalesce into a strategic group with a singular focus on driving revenue. It's all about breaking down the barriers between sales and marketing and aligning operations across the revenue chain to most efficiently power growth.
Just as we see Revenue Operations as a natural evolution of the operations function, LeanData's role in RevOps is also a natural extension of our core mission to empower operations teams to make the revenue engine more efficient through data, automation and analytics. The essential foundation for revenue engine alignment and a high-performing RevOps function is the well-orchestrated people, processes and data behind it.
DGR: What do you see next for RevOps and the role of operations?
Liang: Consistent revenue growth will likely be an ongoing priority for B2B companies for the foreseeable future, requiring they find new ways to drive greater internal alignment, efficiency and effectiveness.
It's clear RevOps has quickly materialized as one of the most powerful shifts B2B companies can make to drive transformative change in their revenue engines to supercharge growth and performance.
And for operations professionals themselves, we believe there's never been a more exciting time for this highly strategic function. The emergence of RevOps just opens the door to further expand the strategic role operations already plays as a mission-critical revenue-generating function. Our customers are on the front lines of this exciting change.