Channel99 Debuts With Free Mobile App, $5M In Seed Funding To Bring Transparency To B2B Website Traffic Quality
Your website gets tons of traffic... but is it legitimate? Does it positively influence pipeline and lower customer acquisition costs? Chris Golec, a B2B veteran who founded Demandbase in 2006, officially launched his latest marketing technology designed to help bring transparency to the quality of B2B website traffic across SEO, paid search, social, email and display advertising.
Enter: Channel99, a company with $5 million in seed funding from Jackson Square Ventures (JSV) in its pocket that plans to pioneer the next wave of B2B marketing with the ability to measure the quality of channels generating pipeline. The solution is designed to identify the vendors and channels that drive profitable website traffic and provide marketers with data and benchmarks to help prove ROI.
While the full platform won't be released until 2023, the company made its grand debut with a free mobile app that showcases performance benchmarks of users' digital channels against industry averages.
"We wanted to give people a lot more visibility into what is good, what does the best-in-class and average look like — not just for the industry, but for companies like ours," Golec said in an exclusive interview with Demand Gen Report. "When you come to Channel99.com, you can set up your total addressable market (TAM). We then generate a tag that gets placed into Google Tag Manager so when you download the app, it immediately populates the app with the percentage of traffic that's coming from your channels, as well as the quality or effectiveness of that traffic and how it compares to industry benchmarks."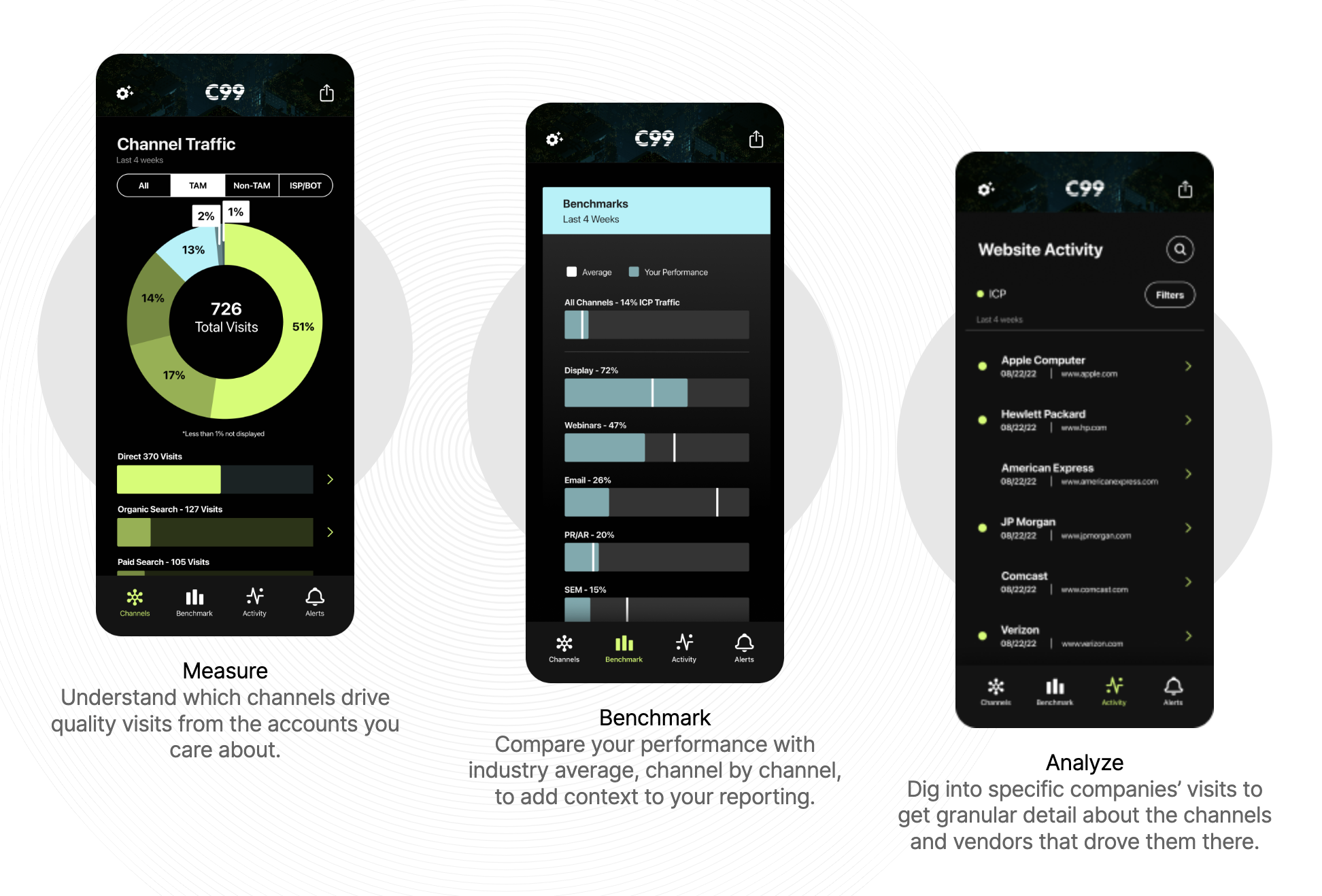 Don't expect to be overwhelmed with data, spread sheets and charts on the app. Golec shared a peek into the app's features and functionalities and we were impressed with how visual and easily readable the information was presented. In fact, 50 companies of various sizes and across industries are already using the app to collect these insights.
"Channel99 gives my team a clear view of which marketing efforts actually drive quality traffic and, ultimately, the business outcomes we're looking for," said Nick Panayi, CMO at Amelia, in a press release. "No more guessing games; Channel99's data and peer benchmarking make it easy to decide where to invest budget and where to cut."
Fun fact: Golec, who remains on the Board of Demandbase, told Demand Gen Report that this new company was the original vision of Demandbase, but the timing wasn't right.
"It was just too early for the business and the notion of account-based marketing (ABM) actually had to come first," he said. "In the early days, marketing automation was all volume, more clicks. And then the next wave was ABM, which was, 'it has to be the right accounts, right?' It must be quality. And this is kind of that next piece, which is, 'what am I spending to get these qualities?' So [Channel99] is the next generation."