DemandGen Report Releases Content Preferences Survey Results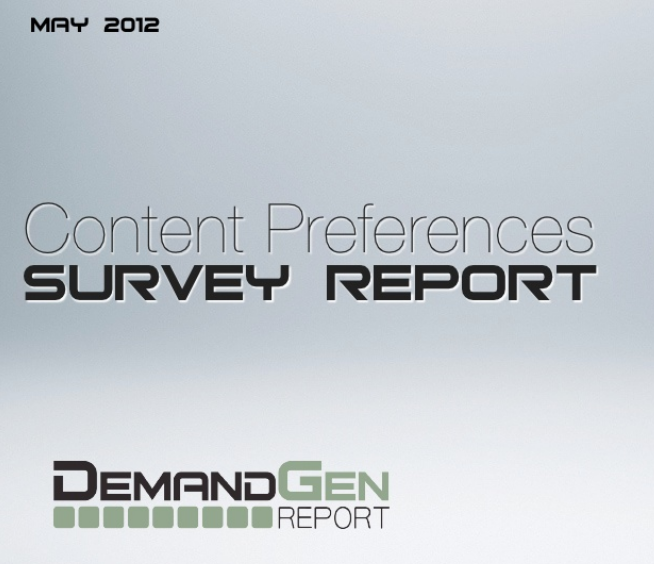 Content is often the first point of engagement between a solution provider and a potential buyer. Given the important role content is playing for companies, DemandGen Report recently conducted a survey to examine the shifting preferences of business executives. Published this week, The Content Preferences Survey report aims to guide B2B organizations looking to kick off a new content marketing strategy or improve upon an existing strategy.
"This survey illuminated interesting trends in the world of content marketing," says Amanda Batista, author of the survey report and managing editor of DemandGen Report. "Solution providers, now more than ever, need to demonstrate a clear understanding of their prospects' challenges, market trends and objectives. They also need to cultivate a greater role in content sharing by providing trustworthy content that establishes relationships with prospects."
Key points from the survey include insights into:
MESSAGING: 75% of respondents encourage solution providers creating content to "curb the sales messaging." Research findings indicate a need for marketers to reevaluate their content strategies to ensure that prospects understand the value for their business and objectives, rather than resorting to obtrusive, ineffective sales-speak. More than half (55%) of respondents advise solution providers to "focus less on product specs and more on value."
SHARING: While email is a primary sharing mechanism, the survey found that more than half (53%) of executives share content using LinkedIn.
FORMATS: 88% of respondents cited white papers as the top choice of content type to research a business topic or solution. But more visual formats, such as webinars (72%); videos (44%); and infographics (38%) also were cited as emerging formats for research.
TECHNOLOGY: The desktop computer is becoming nearly obsolete as a primary research channel. Not much news there, but almost half (40%) of respondents said they are accessing content on their mobile phone more frequently, while 23% are using a tablet device more frequently.

"Research shows that 9 in 10 buyers now connect with a solution provider via some form of content, regardless of company size or industry, and navigating this trend is an evolving process," Batista continues. "The Content Preferences Survey report is a great tool for B2B marketers seeking real market insights into the most effective content creation methods and formats, to improve engagement and optimize messaging."
Click here to view the full report and survey results.
SURVEY RESPONDENT DETAILS
For The Content Preferences Survey, DemandGen Report received responses from 120 business executives across all revenue streams and in a variety of industry segments, during March and April 2012. The survey, developed to understand the research patterns and content preferences of today's B2B buyer, includes input from business executives in Tech/Enterprise; Telecom; Financial Services; Media/Internet; and Manufacturing. Results were highlighted during a presentation at DemandGen Report's B2B Content2Conversion Conference, April 24 in New York City. Click here to access the archived video of the survey recap session.
Last modified onMonday, 14 May 2012 09:17