Infer Enhances Profile Management Platform With Demand Gen Capabilities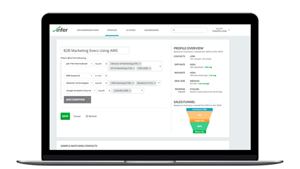 Predictive sales and marketing platform Infer Inc. has released the Net-New Builder, an extension of the company's Profile Management platform that features new predictive demand generation capabilities to help marketers identify net-new leads.
Infer Profile Management, which launched in beta last November, positions sales and marketing teams to generate their ideal customer profiles based on the attributes of their top existing customers and proprietary external signals. The Net-New Builder extension, the company said, was designed to build on the net-new offering the company piloted last year with partners including companies such as InsideView.
"The biggest hurdle to an effective account-based marketing strategy isn't just getting more prospects; it's bringing the new leads into day-to-day sales and marketing activities in ways that actually deliver results," said Vik Singh, Co-Founder and CEO of Infer, in a statement.