Salesforce Grabs UX Design Agency Sequence To Bolster Offerings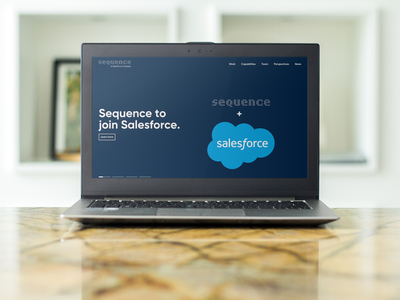 Salesforce has closed its acquisition of Sequence, a user experience (UX) design agency, for an undisclosed fee. This purchase bolsters Salesforce UX services and offers current customers options to better connect with prospective buyers in digital and physical environments.
Sequence offers customer, brand and content consulting services, as well as UX design services for websites and mobile apps. Salesforce already offers a UX service as an add-on to its cloud services offerings, but the company did not disclose whether Sequence will fold into its current offerings or act as a separate entity.
"Over the past 11 years, we've had the incredible opportunity to work with some of the world's best-known and most innovative companies," said Jojo Roy, CEO of Sequence, in a blog post detailing the acquisition. "Our mission has been to lead design-driven transformation by creating innovative digital products and connected customer experiences. We look forward to continuing that work at Salesforce."
The acquisition is Salesforce's first since the start of 2017. However, the purchase of Sequence is one of many the company has made to expand its overall cloud offerings. Salesforce acquired the content collaboration platform Quip for approximately $582 million in August 2016, as well as several other companies in the latter half of the year, including:
HeyWire, a live text messaging channel for customer service reps;
Krux, a cloud-based data management platform; and
Twin Prime, a mobile app performance management company.