ScoutSource Joins Marketo LaunchPoint To Offer Customer Lifecycle Nurturing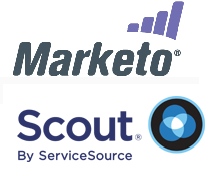 ServiceSource, a recurring revenue management platform and solutions provider, announced that its Scout platform is now available on the Marketo LaunchPoint app marketplace.
Scout's predictive analytics, along with Marketo's automation capabilities, provides subscription-based businesses with the ability to create loyalty and increase customer lifetime value through user nurturing across the entire customer lifecycle.
Other features include:
Subscription-triggered communications to initiate engagement based on subscription terms, improving timeliness and quality;
A scoring engine that alerts users to changes in scores to mitigate churn risks and increase revenue retention;
Automatic synchronization for users tracked in Scout with Marketo ensuring all end-users can be easily contacted; and
Usage-triggered communications that initiates communications to users based on feature usage within each product to drive adoption and loyalty.


"Successful organizations in today's environment where the buyer is in charge know that they have to market and engage with customers both before and after their initial purchase decision," said Robin Bordoli, VP of Partner Ecosystems at Marketo. "Scout's integration to the Marketo engagement platform means customer success teams can now leverage marketing automation intelligence to help develop deeper, more personal relationships with their own customers at scale."