Evergage Personalization Platform Now Features Triggered Email Capabilities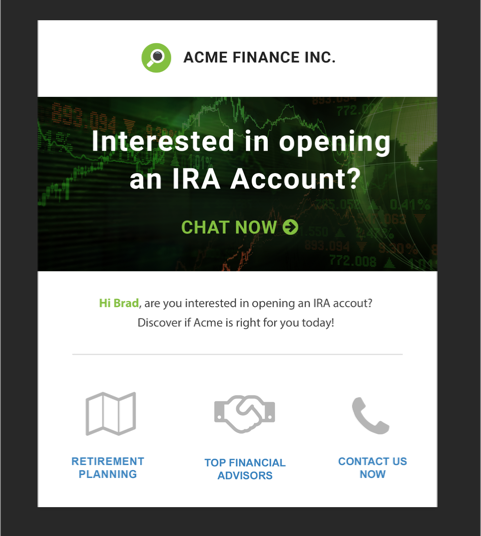 Designed to drive engagement and conversions, the triggered email capabilities of Evergage's real-time personalization platform enable B2B marketers to automatically trigger perfectly timed, relevant, one-off emails based on an individual's in-the-moment actions across channels. The solution can help marketers cut through the clutter — making their emails more personalized, timely and effective.
FEATURES/FUNCTIONALITY
With Evergage's triggered email solution — a key component of the company's broader personalization platform — users can:
Design & build campaigns: Using the visual editor, marketers can create a new triggered email campaign, add text and/or dynamic content, adjust the look and feel, and configure the event trigger by selecting pre-populated options (abandoned cart/form, webpage exit, etc.) or defining their own. Then, marketers can test and launch their campaigns.
Employ dynamic subject lines: Marketers can insert dynamic variables into the subject line to ensure relevance for each recipient and then test variations to optimize open rates.
Combine triggered emails with Evergage's open-time personalization: This enables marketers to deliver the most up-to-date, one-to-one personalized content — updated in real time — based on a visitor's most recent activity.
TARGETED USERS
Evergage's triggered email solution is designed for B2B and B2C marketers in the retail, financial services, insurance, technology, gaming, media and other industries that are looking to improve the relevance and effectiveness of their email communications through one-on-one personalization.
COMPATIBILITY
Evergage includes out-of-the-box integrations with 25 marketing automation/email marketing systems, CRM solutions, CMS platforms, analytics tools and advertising networks. It can connect with ERP and other systems via Javascript or APIs.
DELIVERY/PRICING MODELS
Evergage's triggered email capabilities are integrated into the company's real-time personalization platform, a SaaS solution sold on an annual subscription basis. Triggered emails are included at no additional charge at lower volumes and are priced based on number of emails sent at higher volumes.
COMPETITIVE POSITIONING
Evergage's triggered email capabilities are not a replacement for a company's email service provider (ESP); rather, they plug an important gap. Evergage — as a personalization platform — collects and factors in deep behavioral data (e.g., an individual's active time on page, hovering, scrolling, navigation patterns, etc.), preferences (for brands, categories, price points, etc.), and attribute/profile data (such as from CRMs). It is designed to use these insights for maximum accuracy and effectiveness when triggering emails, and as part of an overall personalization strategy.
CONTACT
Evergage
212 Elm Street, Suite 402
Somerville, MA 02144
(888) 310-0589