Return Path Debuts Enhanced Email Optimization Platform To Improve Campaign Performance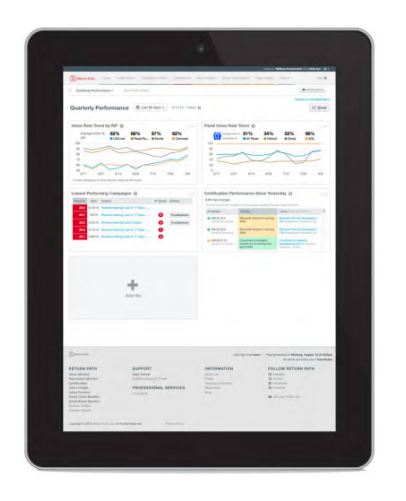 Return Path's Email Optimization Platform is designed to give marketers new levels of insight to solve deliverability issues and improve email campaign performance. Features of this release include a Mission Control dashboard, ESP Connect and a new Deliverability Wizard.
FEATURES/FUNCTIONALITY
The Mission Control dashboard gives marketers at-a-glance insights on campaign performance, allowing them to quickly view and act on the most critical issues.
Aimed at providing a holistic view of email marketing results, ESP Connect imports data from the company's email service provider directly into Return Path's Email Optimization platform
The key feature of the release, the Deliverability Wizard, is a solution that is designed to notify marketers about deliverability problems, and guides them through resolution.
TARGETED USERS
Return Path's next generation Email Optimization Platform is designed for email marketers from all verticals and industries.
COMPATIBILITY
ESP Connect integrates directly with the marketers' email service provider, to provide customers with a holistic view of email marketing results by viewing their ESP data within the Email Optimization platform.
DELIVERY/PRICING MODELS
There is no additional cost for these features for current Return Path customers. As of June 6, when customers log in to their account, they will be prompted to opt into the new experience. Once opted in, they will be taken to the new dashboard.
CURRENT CLIENTS/USERS
More than 2,500 clients use Return Path's Email Optimization Platform, including many of the world's leading brands such as Groupon, Citrix, IHG and Publishers Clearing House.
COMPETITIVE POSITIONING
The Deliverability Wizard is more than just a simple alerting system. Using highly sophisticated data science and modeling, it identifies deliverability problems as they're happening, analyzes the root cause and pinpoints specific steps to resolve the issue.
CONTACT INFO
3 Park Ave, 41st Floor
New York, NY 10016
Phone: 1-866-362-4577