Trustpilot Offers Solutions To Generate Customer Reviews For B2B Companies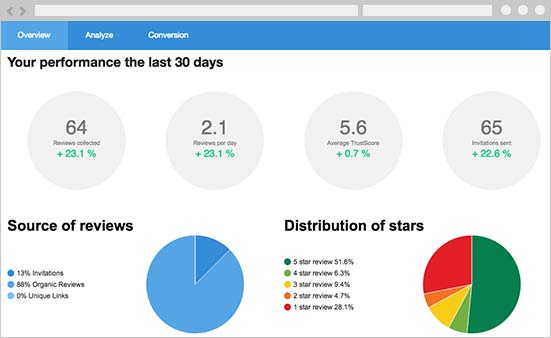 Trustpilot is a review community that aims to build trust and transparency between businesses and customers. More than 72 million consumers read and leave reviews at Trustpilot.com to make smarter buying decisions, and more than 120,000 businesses use Trustpilot's software to engage with customers, proactively collect and manage feedback, drive traffic and boost conversions while improving services and building their reputation.
FEATURES/FUNCTIONALITY
Trustpilot's software provides businesses with the solutions to proactively ask customers for reviews about the company, service and products in a way that is non-obtrusive to their existing customer journey. Reviews are displayed on Trustpilot.com, where businesses and consumers can interact regarding the buying experience. Businesses can monitor reviews and respond, as well as follow-up with customers to resolve any issues and win back business.
Businesses also are enabled to showcase reviews and trust signals using TrustBox widgets on their website and other marketing channels to build trust in their sales funnel and drive more business. Trustpilot's solution allows companies to leverage their brand advocates to refer more new customers and ensure return shoppers, as well as assess the success of the review program and mine the review for valuable business insights with a range of analytics. Trustpilot has an eight-step approach to verifying that reviews are authentic and real, and collected in a non-biased way.
TARGETED USERS
Trustpilot focuses on the retail and services verticals, including B2B companies in those sectors. The solution is typically purchased by the CMO or marketing team, or customer service employees, and used by marketing, public relations and customer service teams.
COMPATIBLITY
Trustpilot integrates with leading business solutions, such as Magento, Shopify, ZenDesk and Salesforce. Trustpilot also provides enterprise customers with custom integrations into existing systems through its APIs.
CURRENT CLIENTS/USERS
Trustpilot works with B2B and B2C companies in more than 65 countries and 26 languages. Trustpilot offers market-leading solutions for organizations ranging from start-up businesses to Fortune 500 companies, such as VanillaSoft, WordPress, JustFab, HomeAway, Virgin America and Royal Mail.
COMPETITIVE POSITIONING
More than 72 million consumers from every country in the world visit www.Trustpilot.com to read real reviews from other consumers and leave authentic reviews about online shopping experiences. More than 120,000 businesses in more than 65 countries collect reviews from consumers using Trustpilot.
CONTACT INFO
245 Fifth Avenue, 4th floor
New York, NY 10016
Phone: 844-661-9927