More B2B marketers are investing in data cleansing techniques to segment their target audiences and help prospects through the buyer journey. According to Maribeth Ross, VP of Marketing for NetProspex, these techniques allow marketers to target audiences more effectively; as a result, they generate more leads and see improvements in marketing-generated revenue metrics.
During a recent webinar -- "To Buy or Not to Buy… That is the Question: When and How to list in your B2B marketing programs" -- Ross explained the right time to use a contact list and the number of contacts needed to get results. Ross also discussed key facts about the data-buying process, as well as the necessary steps marketers should take after making a purchase.

By offering a multi-touch program, marketers can connect with prospects throughout the buying process, while exposing them to relevant content that promotes them to "hand-raiser status," noted Ross.
"Expecting to drive heavy sales through a single-touch to a cold list isn't realistic," she added. "Entering fresh, new and verified contacts (quality data) into a program that will touch them several times, and engage with them with relevant content increases the likelihood that the contact will be ready for sales."

NetProspex suggests marketers follow 10 best practices when they buy contact lists:
Know the origin of the list data;
Understand the methodology being used to keep the data clean;
Expect reputable list providers to offer a guarantee;
Avoid modeled data;
Require precise targeting criteria, and slice and dice the data to meet your needs;
Only purchase net-new contacts, and look for suppression file capabilities;
Seek to talk with a human being about your exact data requirements;
Look for additional services, such as data cleansing, that may be helpful;
Ask a friend or colleague to refer you to a provider;
Ask your ESP/ marketing automation partner for assistance.

Marketers Touch Leads 7-10 Times Prior To Sales
Marketers must know who are their prospects involved in the buying process and need to know how to reach those prospects, Ross stated. Once marketers understand how and when to reach prospects, they must then learn how to talk to them.
"Prospects are like a first date," said Ross. "You're never going to propose to someone on the first date, and you don't want to ask for a purchase commitment on the first touch of your demand program. When utilizing your list of prospects you're going to gently introduce them, talk about their pain point, and help them understand the concept that it's a pain point your company can solve."
Michael Sasaki, Enablement Manager at Leadformix discussed why marketers should offer relevant messaging to make the sale. "Sending relevant messaging is important," Sasaki said. If you ask a marketer whether or not they send relevant messages to their contacts, 10 out of 10, they'll say 'Yes.'"
However, not all marketers are segmenting their lists.

"There is no way to send relevant messaging without segmenting lists," said Sasaki. "The first step to list segmentation. Marketers can do this to by classifying contacts by company size and title, and then create relevant messaging through content."
Segmenting With Marketing Automation
Sasaki noted several challenges facing marketers today, including difficulties producing the right content and fine-tuning their lead scoring processes. Through marketing automation, marketers can address these problems by classifying leads based on where they are in the buying process.

"At LeadFormix, we segment our lists and create relevant email content," said Sasaki. "Based on the amount of response – such as open and click-through rates – we track who is accessing our web site. The pages your prospects are interested in are a clear indicator of where they are in the buying process. For example we track visits to our terms and conditions page, which indicates the prospect is close to completing a sale."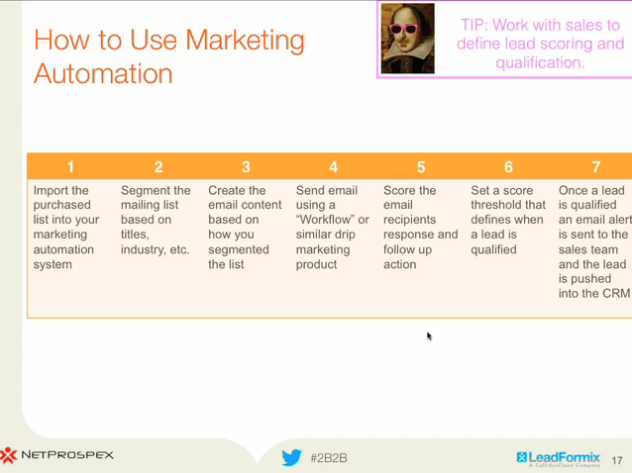 Companies that build a relationship with prospects often get the sale, and a marketing automation tool allows marketers to do so. "All your competitors will try to build a relationships with their leads," explained Sasaki. "The key thing to remember is to provide prospects with the materials that they will use in order to conduct their own research."
Sasaki advises marketers share the following content with prospects:
- Case studies;
- Product comparisons;
- How-to content;
- Best practice guides; and
- Overviews.

Marketing automation is mainly a tool for marketers, but it's necessary to get an organization's sales team involved as well, indicated Sasaki.
Click here to download NetProspex's white paper, titled: "Integrating Quality Data To Optimize Marketing Campaign Performance" and read the 5 critical actions to improve your data quality.