B2B Content2Conversion Preview: Content's Impact On Engagement And Campaign Results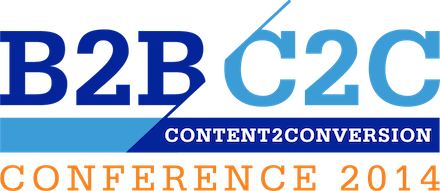 This year's B2B Content2Conversion conference, slated for May 6-7 in New York City, is going to take an in-depth look at the role of content in customer engagement and driving buyers through the sales funnel.
Now in its third year, the event will feature three tracks — content strategy, demand generation and sales enablement — and 30 speakers. Among the major themes are next-generation metrics, understanding content consumption behaviors and strategies for aligning content with sales objectives.
Brent Adamson, author of The Challenger Sale, will deliver the keynote address in which he will discuss Challenger Marketing and creating content that converts.
"It's not so much that most content fails to generate leads — though that is quite possibly true — it's that most content fails to generate leads that ultimately convert to real business at the premiums we need to achieve in order to grow," Adamson said. "The simple reason is most thought leadership is designed to help a supplier stand out in a world crowded with both too much content and too many competitors."
The reason that 70% of content is not used in the buying cycle is due to a lack of testing, according to Matt Papertsian, Research Director at SiriusDecisions, who will present during a general session. "We've created it and then we're trying to figure out some way to use the stuff that we created. Well, people don't want stuff. They want aligned content based on their specific needs."
Papertsian's presentation will focus on next-generation metrics. "Aligning content, developing personas and leveraging a campaign framework are all critical components. However, we are going to get a little deeper into what kind of environment you need so that you can test, target, learn and measure your content."
Demand Generation 2.0 Summit
In the Demand Generation 2.0 Summit track, David Lewis, Founder and CEO of DemandGen International, will discuss how marketers can create an almost irresistible impulse to purchase by gaining a greater understanding of what triggers the brain to buy.
"What I'm going to do in my session is — since the whole conference is around content — is educate people on how to make content that pushes the mental buy button of the prospect," Lewis said. "What if you could create content that was so powerful that the prospect had almost no choice but to make a buying decision? Imagine the power you would have as a marketer if you could do that."
Cari Baldwin, Founder of BlueBird Strategies, will outline how to build a better lead nurturing program. She will provide real-world examples of successful campaigns, as well as tips and tricks marketers can take back to the office and start applying in their next nurtures.
Content Strategy
Christine Elliott, Associate Director at Crowe Horwath, will discuss the connection between content and engagement, and share some of the metrics being leveraged by Crowe Horwath during her presentation in the Content Strategy track.
"I would say that that our primary focus is figuring out the puzzle that is engagement and what it means," Elliott said. "Just because somebody looks at a lot of content doesn't necessarily tell you anything about where they are in the buying cycle. We're trying to identify the true drivers of an opportunity through the content."
Influencer marketing is gaining traction, and Lee Odden, CEO of TopRank Online Marketing, will address the topic in his presentation. "If you can find a way to solve multiple problems for your target audience with co-created influencer content and achieve high-impact exposure, your brand will grow your own networks of influence. You will also expand your reach to new audiences and cultivate more specific influence as a trusted authority for what your customers buy."
Sales Enablement
In the Sales Enablement track, which was added this year, Tim Riesterer, CMO of Corporate Visions, will discuss the content that marketers need to create to articulate value at every stage of the buying process.
"Conversion in my book is the product of a great sales conversation," Riesterer said. "You can do everything right in terms of developing content and getting hand raisers and the interest in talking to a sales person, but the sales person has to close that with a great conversation." Riesterer said the three types of conversations are ones that create value, elevate value and capture value.
Dann Marty and Brian Teevan of ADP Inc. will outline how an integrated marketing plan can drive lead influence later in the buying cycle. They'll also examine sales' role in leveraging marketing programs to "get in the door" and close. They will ask the question: Have marketers shifted too much from the human touch? For some marketers, the shift to leveraging automation tools has been too heavily dependent on emails, where human interaction may seem completely eliminated in the early buying stages, they noted.
Click here to register for the B2B Content2Conversion Conference.
Click here to view the conference agenda.